Take a Chance with the Stars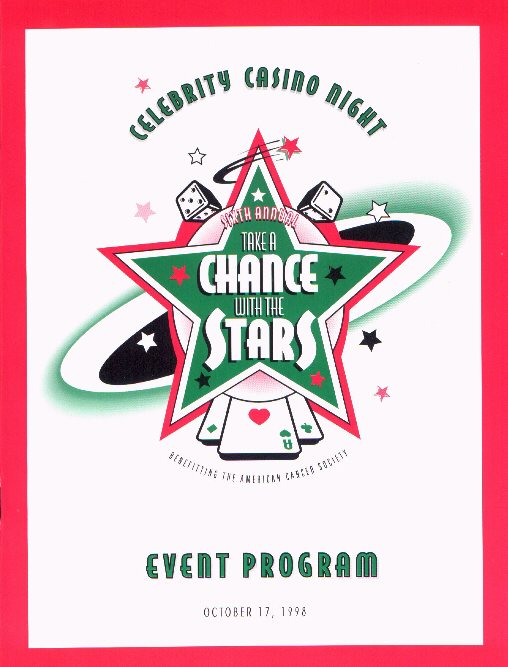 October 17, 1998
Well here's my review of this great event to raise money for the American Cancer Society.
We got there @ 845pm (the event started 6) and we thought we'd miss a lot. As we were heading towards the autograph table we past the actor who plays Antonio from SB. He was letting up pass through and I smiled and said hi and then he smiled back and said hi! He's cute! When we got to the autograph table it was crowded and there were a lot of stars there. We were checking out who was there and then decided what line we'd get in. Well we couldn't really decide to either get into the Nolan North (PC) or Clive Robertson (SB) one first. We ended up to see Nolan North. He is a very sweet and funny guy! Cute too. He signed a picture for me and he asked us how we were doing...I said we were great and lost! We told him we got lost getting here, and he asked where we came from and we said San Bernardino area and he said OK, but i knew he didn't know where that was! lol Then he said well i'm glad you made it and thank you! (He has a great smile!)
After we left his table I was still eyeing Clive Robertson, but his line was too long... and i didn't want to miss any other stars. As I was looking around I spotted Amber Tamblyn, and Becky Herbst, and Lisa Cerasoli (all fr: GH), so I pulled my sister over and we headed towards their table. They are extremely nice! Lisa was awsome.
My sister and I saw her 4 times. We each got a pic with her the 2nd time we saw her. The 3rd time we saw her she was getting her jacket at the place where they hold it! (duh, lol) and my sister asked her for her autograph and got that. She is very pretty!
Well, then we saw a few stars at the tables, we saw Christi Ellen Harris (Emily, SB), Sherri Saum (Vanessa, SB), Peter Hanson (Lee, PC), George Alvarez (Garcia, GH/PC), my sis said she saw Jennifer Hammon at one of tables but I didn't get to see her! :( My sister and I went our seperate ways for about 10 min. and I don't think we should of seperated...she talked to Becky and Jennifer (who I wanted to meet). I saw Jay Pickett (Frank, PC) pass through and I smiled and said hi he smiled and said hi back! Let's see some other people I saw passing by was Sarah Aldrich (Courtney, PC), John Ingle (Edward, GH), Nick Kiriazis(Antonio, SB) a few times, Kathleen Noone (Bette, SB), James Master (Buffy), Kathy Kinney (Drew Carey), and Denise Galik-Furey (Rhonda, PC) I asked her if she was coming back to the show and she said yes (I think, I don't remember lol), she was just talking to Jennifer about it. She was there with her husband John Furey (Lee Hawkins, AMC).
Here's the story about Vanessa's long line! We saw her come in with Tyler and when she sat down the line was looong...and I was just at the side watching her sign autographs and take pictures. I don't know how she does it...she had line for autographs at the same time people were calling her name and asking her if they could take her picture, talking to fans and friends. Flash bulbs all over the place. I was hoping to meet her but hopefully there's a next time. Then Crystal Carson came and sat next to her. I decided I'll get in line for her! since there was a huge one for Vanessa. Crystal is extremely nice, sweet and gorgeous! She showed those abs in her dress! I asked her to sign my TACWTS shirt and she said she loved too! and so I gave it to her! I told her it was very nice to meet her and she said with a smile "It's very nice to meet you too, and thanks for coming!"
Towards the end Crystal went up on stage with the High Lonsome (they were performing) and she was dancin' on stage! It was cool! Then they got to announcing the total. And calling the raffles. I had put my ticket in the "Win a set tour of GH w/ Leslie Charlson" and as he called out the # I thought I was going to win! (lol, I can wish can't I?), anyways he called out the first 4 (or is it 5) numbers of my ticket but when it came to the last 2 I sighed, I had 41 and it was 02. Oh well! Well right after that raffle drawing Crystal added another raffle to go on a set tour w/ her! I was like YEAH! but when the # was called I was like NO! LOL the guy who won couldn't go because he had to catch a plane back to Switzerland the next day! So they drew another ticket and it wasn't my #!, but it was great! I had lots of fun for the 2hrs. we were there. I wish we got there early though cuz' I really wanted to meet other stars like Julie Pinson (Eve, PC) and Wally Kurth (Ned, PC) to name a few, but there's always next time.
And finally as I was driving out to pay for parking we spotted Lisa Cerasoli (4th time) in the parking garage talking to some people! It was great! Lisa is very sweet, she, Crystal and Nolan were the highlights of my evening!
TAC pics
Back to events page

Take a Chance homepage